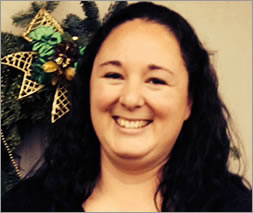 Runner Up
Yahtil's Story
GIVING BACK
When my stepfather was diagnosed with terminal cancer, I knew I needed to be with my mother during those last months.  I took time off work and helped her as she attempted to care for the man that she loved as he slowly slid away.  While it was painful to watch, I'm glad that I was there.  That was when I truly became aware that she really could not care for herself, much less another.  My mother suffers from a number of mental and emotional problems.  Her husband's death exasperated all of them and a short time later she needed to spend some time in the hospital.  I decided then that I would become for her what she had always been to me.
As an Occupational Therapist I had a lot of experience caring for others, from the elderly to small children…but this would be the first time that I was responsible for the care of my own mother.  In many ways, it has been like caring for those other elderly people that I had helped in the past…but in others, it has been like caring for my own child.  Ultimately, that is what makes being a caregiver rewarding for me.
I think one of the fears we have is of disappointing our parents.  If not disappointing them, then at the very least, falling short of showing them how much they have meant to us.  I think many parents believe that their children do not realize how much they sacrificed for their safety, health and happiness.  I also believe that parents are afraid of growing old alone and forgotten in a facility, instead of being surrounded by loved ones at home. 
Being my mother's caregiver gives me a chance to really show her how much her love and care throughout my whole life has meant to me.  She took care of me, sheltered me and fed me.  This is my opportunity to give back to her…not because I'm obligated…but because I love her. 
Shield HealthCare's
13th Annual
Caregiver Story Contest
Shield HealthCare recognizes the demanding roles and responsibilities of today's caregivers. Whether you are a family caregiver or a home health professional, we would like to hear your story about "What Makes Caregiving Rewarding?". Submit your story for a chance to win a prize!
Top 3 Story Winner Prizes
$500 American Express Gift Card
One-year subscription to Today's Caregiver Magazine
Commemorative Wall Plaque
Top 5 Runner-up Prizes
$150 American Express Gift Card
One-year subscription to Today's Caregiver Magazine
This year's Caregiver Story Contest is over, but sign up for our newsletter for announcements and updates about next year's contest.
Sign Up