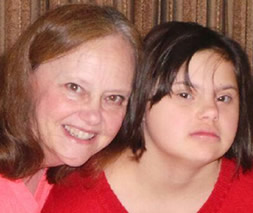 Grand Prize Winner
Patricia G.
As I read about Timothy Shriver's new book, Fully Alive: Understanding What Matters Most, I could not help but think that he had been peeking into my life. As the Special Olympics Chairman, Shriver shares with readers that people with special needs also have special talents that can be encouraged and developed with the proper understanding, motivation and development. The reward of being Katie's caregiver and parent is seeing this lived out daily in her life.
  Katie is a very special child in that she has dual diagnosis of Down Syndrome and Autism.  Although she is very limited in her speech and her ability to communicate, she is bright and eager to do so much.  She has always watched her older brother and wanted to do everything he did.  We have allowed her the freedom to explore her maximum potential in all areas: physical, mental, emotional, and social.  The reward has been to see a young lady who turns 13 tomorrow grow from a child to a teenager with a personality that is uniquely her own.
  There have been years when her severe sleep disorder meant we never slept more than two hours at a time.  Her courage to face the next day was an inspiration to me.  She would smile and get ready for school as if she had slept all night.
  When Katie's medical condition seemed to be a mystery to all her doctors, we were able to find a way to get her to Johns Hopkins Medical Center to see a renowned doctor in his field.  After successfully determining a course of action, her condition still has ups and downs and requires bi-weekly IGG (Immunoglobulin G) treatments.  I had to learn how to administer the treatments as well as convince Katie that it was worth it to have a set of four needles in her stomach for several hours. The reward comes when I see her stronger, healthier and happier but one of the biggest rewards is when she actually asks for the treatment, knowing how much it helps her.
  When Katie's education seemed stagnant, I was able to convince Sue Buckley of Down Syndrome International to observe her and give feedback to improve parents and teachers ability to get her back on track.  She utilized this to get people to work with her on creative ways to utilize her strengths.  An extra blessing was seeing the improvement and increased knowledge in her teachers and other caretakers. 
It has been rewarding to see Katie make friends through outlets such as a very active Special Olympics delegation,  Kinetic Kids classes, or camp and to know that we are exploring every possible avenue to allow her to be fully alive: mentally, physically, socially, and academically. Each of these activities takes the entire family.  Commitment to helping her learn each step of an activity has been such a challenge but such a rewarding enterprise.
  I understand what matters most: that even if Katie never develops to the level of many other children that she develop to the greatest possible level that she can. The reward is in knowing that I have been the best parent and caregiver that I can be and that Katie has the opportunity to enjoy a full life. Her smiles, laughs and hugs reinforce that we are being successful in that endeavor and that she is being successful in the sheer exercise of living.  A goal we all can embrace.
Shield HealthCare recognizes the dedication and daily challenges of caregivers. Our annual caregiver story contest on "What Makes Caregiving Rewarding?" is a special way to honor caregivers and provide an encouraging forum to share inspiration. Whether you are a family caregiver or a home health professional, we welcome your story about the rewards of being a caregiver.
Top 3 Story Winner Prizes
$500 American Express Gift Card
One-year subscription to Today's Caregiver Magazine
Commemorative Wall Plaque
Top 5 Runner-up Prizes
$150 American Express Gift Card
One-year subscription to Today's Caregiver Magazine
The 2014 Caregiver Story Contest officially ended on 11/30/14. Winners will be notified on 12/19/14.
Please sign up for our newsletter to receive announcements about next year's contest.