99% of our customers would recommend us to friends and family.
— *2016 annual customer survey conducted by Press Ganey Associates Inc.
Join Our Team
Since 1957, Shield HealthCare has been providing our customers with better solutions for independent living. We want you to be a part of the solution by exploring our many unique employment opportunities. We do business in five states with four locations in California; one in Denver, Colorado; Chicago, Illinois; Seattle, Washington; Dallas, Texas and San Antonio, Texas. Career-minded individuals will find our business challenging and our reputation for excellence just one of the rewards we have to offer. To further enhance this tradition of excellence, our employees participate in continuous training and development programs in a variety of disciplines.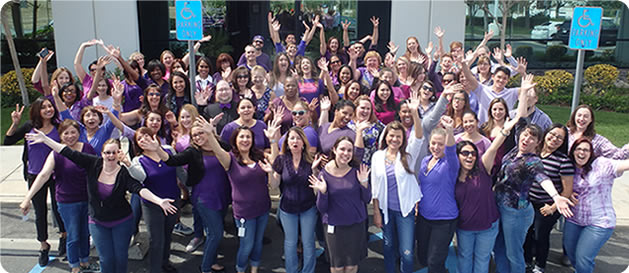 As a company, we pride ourselves on our commitment to provide quality healthcare services to the community. In addition to a dynamic work environment, we are proud to offer competitive salaries and a comprehensive benefits package including:
Medical Insurance
Shield HealthCare knows insurance is important to you and that it provides employees with peace of mind. We offer the choice between a PPO and an HMO plan, depending on the state where you work. Pick the option that best suits your situation. The average company subsidy for medical and dental coverage is 85%.
Disability Insurance
Long-term disability insurance is paid 100% by Shield HealthCare. Short-term disability requires a small co-pay.
401(k)
Preparing for the future is a necessity. Invest your future in a company that invests in you. Shield HealthCare provides matching contributions and a selection of many stable, low expense ratio funds to choose from in our 401k plan.
Dental Insurance
Shield HealthCare offers both an HMO and a PPO dental plan to meet your needs. Choose what works best for you Employees can select dental insurance without having to select medical insurance if they would like.
Life Insurance
Life insurance equal to your annual salary is provided at no cost to you. The option to increase the amount of coverage or add family coverage is available through payroll deduction.
Educational Assistance
Shield HealthCare will reimburse up to 75% of tuition fees, required fees and textbooks.
Flexible Spending Account (Section 125 Plan)
Set aside money tax-free from your earnings to pay for health care and dependent care expenses. Put your tax free dollars to work for you!
Paid Time Off
Shield employees work hard and we want them to play hard. Earn 1-30 days of vacation annually depending on years of service. Earn 5 sick days per year with the ability to bank up to 30 days for those unforeseen events. Holidays and Floating Holidays give you another 11 days of paid time off.
Charitable Contributions and Activities
Shield employees are encouraged to donate time and money to charitable organizations and be involved in the community. Employee donations to recognized bona fide charitable organizations are matched by the company. Shield HealthCare also sponsors employee teams who participate in charitable fund raising events such as the Revlon Run/Walk, the Relay for Life, and the MS Walk to name a few.
Our Human Resources Department is actively recruiting for a variety of positions. If you are interested in joining our team, CLICK HERE for a list of our current openings. Positions are updated weekly. Shield HealthCare is an equal opportunity employer m/f/d/v.