99% of our customers would recommend us to friends and family.
— *2016 annual customer survey conducted by Press Ganey Associates Inc.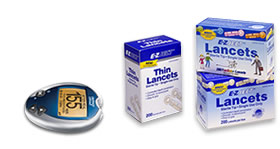 Diabetes Supplies
Shield HealthCare works closely with manufacturers to provide you the best solutions for your diabetes management and the right products to support your needs.
Glucose Meters or Glucometer – A medical device used to measure blood sugar levels.
Test Strips – Disposable strips that are used with a meter to read the concentration of glucose in your blood.
Lancets – Small pin-like devices used to obtain a drop of blood for glucose testing.