99% of our customers would recommend us to friends and family.
— *2016 annual customer survey conducted by Press Ganey Associates Inc.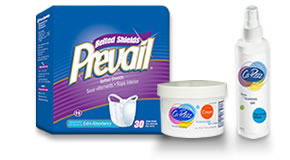 Incontinence Products
Since incontinence is a symptom and not a disease, the method of treatment depends on the diagnostic results. Sometimes simple changes in diet or the elimination of medications such as diuretics can cure incontinence. More commonly, treatment involves a combination of medicine, behavioral modification and pelvic muscle reeducation, collection devices and absorbent products such as those Shield HealthCare carries.