99% of our customers would recommend us to friends and family.
— *2016 annual customer survey conducted by Press Ganey Associates Inc.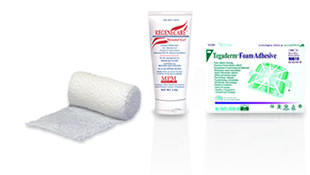 Wound Products
When a person has an acute or chronic wound, healing is dependent on many factors. The disease process, age, and many other physical factors need to be considered, but creating a healing wound environment with appropriate wound care products is critical. The Shield HealthCare wound formulary offers state of the art dressings that will facilitate and maintain a healthy healing environment for all wound care needs. Let Shield HealthCare assist you in en­suring positive healing outcomes with our wide variety of products.
Composite Dressings
• Multi-layered, bordered
• Multi-layered, bordered, waterproof

Foam Dressings
• Non-bordered
• Adhesive bordered
• Fenestrated

Alginate Dressings
• Alginate sheets
• Alginate ropes

Hydrogel Dressings
• Hydrogel impregnated gauze pads
• Hydrogel sheets
• Amorphous (wound gel)
• Amorphous (wound gel) with silver
• Amorphous (wound gel) with lidocaine

Hydrocolloid Dressings
• Occlusive, semi-occlusive
• Self-adhesive; bordered
• Extra-thin

Basic Wound Care
• Gauze pads; rolls
• Petrolatum gauze
• Abdominal pads
• Tape
• Packing strips
• Non-adherent Telfa
• Coban wrap
• Compression wraps