In 2007, Shield HealthCare was granted formal accreditation status by the Community Health Accreditation Partner's (CHAP) Board of Review signifying its commitment as a leader in providing superior products and service to the home healthcare market.
About CHAP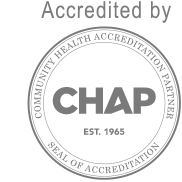 The Community Health Accreditation Partner (CHAP) is an independent, non-profit accrediting body. It was the first accrediting body for community-based health care organizations in the United States and was created in 1965 as a joint venture between the American Public Health Association (APHA) and the National League for Nursing (NLN). These organizations brought to fruition the futuristic view that accreditation was the needed mechanism for recognizing excellence in community health practice. In 1988, CHAP became a separately incorporated, non-profit subsidiary of the NLN under the CHAP name. In 2001, it was spun-off by the NLN and became an independent, non-profit corporation.

CHAP was granted "deeming authority" by the Centers for Medicare and Medicaid Services (CMS) in 1992 for home health and in 1999, for hospice. This means that instead of state surveys, CHAP has regulatory authorization to survey agencies providing home health and hospice services, to determine whether they meet the Medicare Conditions of Participation (COPs). In 2006, CMS granted CHAP full deeming authority for Home Medical Equipment (HME).